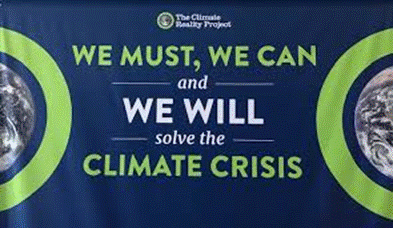 Since 2018 I have been an active member of Al Gore's Climate Reality Project, dedicated to education on the Climate Crisis and to solutions to environmental problems. As of this writing I have done well over 50 Climate presentations, both the basic "Must We Change?, Can We Change? and Will We Change?" presentation the former Vice President made famous in "An Inconvenient Truth" back in 2006, and in the 2020 election year - "The Politics of Climate". In the summer of 2020 I was chosen to be a mentor for Climate Reality's Global Project, where we trained almost 7000 new trainees around the world virtually.
The 2007 Nobel Peace Prize was awarded jointly to the Intergovernmental Panel on Climate Change (IPCC) and former Vice President Al Gore "for their efforts to build up and disseminate greater knowledge about man-made climate change, and to lay the foundations for the measures that are needed to counteract such change." Part of Gore's work led him to found the Climate Reality Project, an organization which has trained more than 20,000 presenters, all with the goal of educating the public about the dangers of human caused climate change and the measures we need to take to overcome it.
In August 2018 Albion resident Doug Nunn joined over 2200 Climate Reality trainees at the Los Angeles Convention Center where Al Gore and a group of educators, scientists, and political figures worked to pass on their scientific training, knowledge and passion. Nunn is now working to educate citizen groups on the realities of Climate Change and the work we need to do to begin the process of overcoming the damage being done.
In addition, Nunn has recently been presenting his Politics of Climate presentation. The "Politics of Climate" talks about the history of environmentalism in the US, the breaking of the longtime consensus on National Parks and conservation during the Reagan administration, the hiding of increasing evidence of Climate Change by the fossil fuel industries, and the one-sided denialism of the Republican Party in the last decades. Exploration of the Green New Deal, Cap & Trade, and Carbon taxes are part of the presentation as are a discussion of both the Biden and Trump candidate platforms on Climate Change and the Environment. The show is about an hour long and I will Zoom to your group to present. Please check in at dnunn@mcn.org or on Facebook or at 415-613-4416. Go Mother Earth!