Doug Nunn's Books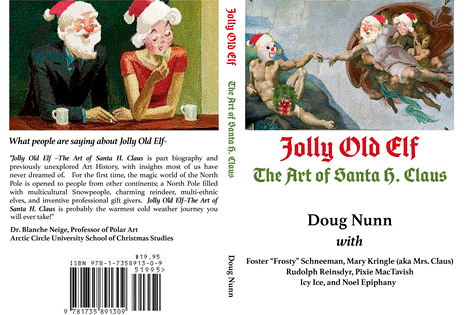 Jolly Old Elf--The Art of Santa H. Claus is a Christmas fantasy, part Santa biography, and part tour of Santa's hidden art treasures. Jolly Old Elf tells the story of Santa's life and career as a toymaker and gift giver, as well as his second career as an artist, a Christmas card and movie poster maker. Along the way we meet Frosty Schneemann, Mrs. Claus (Mary Kringle), Rudolph Reinsdyr, Pixie MacTavish(Elf Shop Steward), "Icey Ice" Schneeman (Frosty's Punk Rock son), and Noel Epiphany, Eco-Activist and star reporter for SnowNN.
Jolly Old Elf is filled with dozens of Santa's till now unseen creative masterpieces, as well as biographical snippets, stories and anecdotes of life on the North Pole. Narrated by Frosty, Mrs. Claus, Rudolph and others, Jolly Old Elf is a joyful and very silly farce, a combination lost biography and treasure chest of previously unseen art history masterpieces.
ISBN: 978-1-7358913-0-9
Jolly Old Elf, The Art of Santa H. Claus can be purchased as a paperback or Ebook at your local independent bookstore like Mendocino's own Gallery Bookshop and Bookwinkle's Children's Books or at Amazon.com either as a paperback or an EBook or at any other independent bookseller as either a paperback or an EBook.